10/31/00
New Jersey jail's "red tape" saves baby
An inmate in the Hudson County jail in New Jersey has decided not to abort her baby, after originally demanding an abortion. The jail had arrangements to handle first trimester abortions, but the woman was more than 14 weeks pregnant, so her request for an abortion was delayed. Last week, warden Ralph Green made special arrangements for her second trimester abortion, but she was no longer interested.
What changed her mind?
It seems that she felt her baby move. She knew that once she felt the baby move, she wouldn't be able to go through with the abortion. The woman said "If I could have received the services I requested when I requested them, I would not have had to have the baby."
And so, even if the mother's heart has not really changed, the baby's life has been saved, due to the delays caused by a little "red tape."
10/30/00
Accidental phone call encourages woman to choose life
A 27-year old pregnant woman in Bakersfield, California intended to call an abortion facility last Tuesday. Instead, she mistakenly dialed the LifeHouse, a pregancy help center. She told the counselor who answered the phone "I don't want to be a single mom, because I don't feel that it's fair to the baby." She went on to explain that she had an abortion several years ago after she was raped by her step father. She said she felt bad after that abortion, because she was 15 weeks pregnant. The counselor asked her to come to the LifeHouse to see a video about abortion, and the woman agreed. After seeing the video, she told the counselor that what she really needed was to move to another town to get away from her step-father, so the counselor contacted a maternity home in another city. The woman hopes to move into the home soon.
To learn more about this woman's story, click here. To find out how to get involved in saving babies in your community, click here.
10/26/00
Couple chooses life at UC Berkeley
A young married couple chose life for their baby last week at the University of California's Berkeley campus. A group of young people called The Survivors was at the university, proclaiming the truth about abortion. The couple stopped to talk to Survivors' leader Dan McCullough.
The wife told Dan that she already had two children, and she and her husband were considering abortion because they weren't sure if they could handle a third child. But when the couple saw the Survivors' signs, which graphically displayed what happens to a child who is aborted, they said that they were both fully convinced that abortion was no longer an option.
The Survivors is a group of young people, born after 1972, who consider themselves to be survivors of America's abortion holocaust. To find out more about the ministry activities of the Survivors, click here. To get involved in saving lives in your own community, click here.
10/20/00
Abortion survivor speaks out
In December 1977, an 18-year-old woman met a 16-year old boy at the grocery store where they both worked. Soon, they were in love, and before long, she was pregnant. Considering their future, it seemed like abortion was their only option.
Inside the abortion facility, she waited for the abortionist... and waited.... Why was he so late? As her boyfriend sat in the waiting room, he finally knew he couldn't wait any longer. Breaking the rules, he stormed into the examination room, clutched her hand, and cried "we don't have to do this. We can make it." She hugged him and said "thank you." Moments later, the abortionist arrived, just in time to watch them leave.
Eight months later, a baby was born. That baby is now a college student, and he published a story about his close-call with death in Wednesday's edition of Oklahoma State University's Daily O'Collegian newspaper. He wrote: "A lot of people will say, 'you don't know until you're in that situation.' I have been. Only I was inside."
To read more about this young man's story, click here. To find out how to get involved in saving babies' lives in your own community, click here.
10/14/00
Pregnant woman tricks husband to save their baby
A 26-year old woman saved her baby from abortion last Monday in Bakersfield, California, by tricking her husband. He had insisted that she needed to abort the baby, so she told him "if I'm going to go through this, you're going to see what really happens." Then she deceived him by saying "I have an appointment with a doctor who specializes in this, and I need you to come with me."
But instead of going to her doctor's office, she brought him to the LifeHouse, a pregnancy help center, where they were shown the graphic abortion video, "Harder Truth".
At first the husband was furious that he had been tricked, but after about an hour of talking to the counselors at the pregnancy help center, he agreed that he wouldn't want his child to experience what he had seen on the video. The experience not only helped the couple to keep their baby, but also to reconcile some of their marital problems.
If you would like to know more about what happened to this couple, click here. To find out how you can be a part of saving lives in your own community, click here.
10/11/00
Solomon's wisdom saves a baby
Wise King Solomon was once asked to settle a dispute between two women who were fighting over a baby. King Solomon proposed that the baby be cut in half, and he would give each mom half the baby. One of the women agreed, but the second woman begged him to spare the baby's life, even if it meant that the other woman would raise him. King Solomon knew that the second mom, who pleaded for the baby's life, was the real mother.
Rose Mary Leon shared this story with a pregnant woman at an abortion chamber in Southern California last Saturday. Rose explained to her that Solomon was dealing with two kinds of moms: one mom will have her baby killed so that no one else gets him. The other mom wants what is best for her child, even if that means that someone else will raise him. Then Rose asked the woman: "What kind of mother are you?"
The woman left that killing center on Saturday without killing her baby.
If you would like to know more about this, click here. To find out how to get involved in saving lives in your own community, click here.
10/7/00
Happy birthday, baby "Danielle!"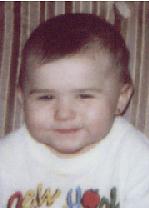 In the Spring of 1999, a pregnant teenager in Bakersfield, California planned to abort her baby. As she sat in the abortion mill's waiting room, she heard a voice, calling from the sidewalk outside, pleading for the life of her baby. She was upset that this person was talking so loud, so she went out on the balcony of the killing center, intending to scold the loudmouth. Looking down, she saw a picture of a six week old preborn baby, still inside the sac. After seeing that picture, she knew that she couldn't go through with the abortion. She was still too mad at the person standing on the sidewalk to tell her, but after her baby was born, she told them the story of how they saved her baby's life. This week, that baby celebrates her first birthday.

If you would like more information about how to get involved in saving lives in your own community, click here.

For more information about babies saved in Bakersfield,